Welcome to AWMS, in this guide, I'll show you the three best ways to install an alkaline water dispenser in your home. I'll also go over the pros & cons of each installation.
You may have heard of alkaline water machines and water ionizers. These are also known as alkaline water dispensers, although, they aren't the only gadgets that can dispense alkaline water.
I've been studying alkaline water for the past year and drinking it daily in that same span. I made this guide as easy to understand as possible by removing all the unnecessary technical gobbledygook.
By the end, you'll know all the best ways to install an alkaline water dispenser in your home and have a complete understanding of how each system works.
Let's get started…
How to Install an Alkaline Water Dispenser (3 Methods)
As I mentioned in the beginning, the best option for dispensing alkaline water in your kitchen is a water ionizer. The second option is a countertop alkaline water filter, which I'll describe how to install first.
Method #1 – Countertop Water Filter
The first method you can use to install an alkaline water dispenser in your kitchen or home is a countertop system.
How do these systems work?
Countertop alkaline filter systems rely on minerals inside the filter to raise the pH of your water through natural reactions between the minerals and your source water. These systems also typically use activated carbon and other types of filter media to remove impurities from your water before adding the alkaline minerals.
These "mineral cartridges" inside the filters usually contain calcium, magnesium, and potassium.
I'm a huge fan of this system because it does a better job of filtering impurities than other larger countertop options on the market. Plus, it adds a wider range of minerals to your water including the power 3: cal, mag, and potassium.
As you can see, this filter does remove the dreaded chloramines, which are harder to remove than chlorine. This system is the best alkaline water dispenser on the market in terms of remineralization.
When we move to the next method, I'll tell you why remineralization is a lot different than ionization.
Pros and Cons of an Alkaline Countertop Water Filter
Pros
Most affordable option
Very compact
Easy to install (no plumbing required)
Just one filter to change
Huge upgrade over faucet filters and pitcher filters
A healthy blend of alkaline minerals
Better tasting water
More antioxidants than plain filtered water
Made in the USA
No more bottled water
Cons
Can't control the pH
Fewer anti-aging antioxidants than ionized water
Less powerful filter than premium water ionizer filters
You could be adding too many minerals if you have hard tap water
Option #2
There's a second type of countertop system. The Zen Water Systems countertop alkaline water filter also filters and remineralizes your water on a larger scale than the APEX system above.
The Zen system will take up more space on your countertop. It comes in two sizes: 4-gallon and 6-gallon capacity.
While I do like this system more than standard Brita filters and other conventional water filters, the APEX filter above is my first choice in this category.
Method #2 – Countertop Alkaline Water Machine
The second option for installing an alkaline water dispenser in your home is to buy a countertop alkaline water machine or water ionizer (alkaline water machine and water ionizer are the same).
Countertop ionizers are more affordable than the ionizers I'll show you in the third method, and they're easier to install. Similar to the APEX filter above, countertop ionizers sit on your counter and use a faucet diverter to run water through the machine.
You simply flip the switch at the faucet when you want your water to run through your alkaline water machine. This is the second option for dispensing alkaline water in your kitchen whenever you like.
You also get the added bonus of the ability to make acidic water that you can use for household cleaning and cosmetic uses. Oftentimes, people don't realize how many uses acidic water has until they start using their ionizers.
First, I'll show you a popular water ionizer that's reliable and less costly than several premium models.
The Aqua Ionizer Deluxe 5.0 is one of the best budget water ionizers:
The 5.0 costs significantly less than most ionizers, and it has many high marks. After inspecting this ionizer, I awarded it my top pick for the best budget ionizer on the market.
Pros and Cons of a Countertop Water Ionizer
Pros
pH level control
More anti-aging antioxidants
Stronger alkaline ionized water
Acidic water for household and cosmetic uses
Powerful water filters that remove a long list of contaminants
No more bottled water
Cons
Higher initial investment
Take up more counter space
Option #2
A second option that I'm also a fan of is the Cosan Pure Hydration water filter that makes ionized water without electricity. This system also has some of the most powerful water filters of all alkaline water dispensers.
This countertop model is the best overall alkaline water dispenser on the list, especially if you're new to alkaline water.
The only drawbacks to this unit are: it doesn't make acidic water, and you can't control the exact pH of your water.
Now, let's move on to the final method.
Method #3 – Under-Counter Water Ionizer
The last and most premium option for installing an alkaline water dispenser in your home is an under-counter water ionizer. The beauty of these machines is that you get all the advantages of a water ionizer without eating up valuable counter space.
These water filter systems look sleeker in your kitchen and come with attractive faucets that allow you to control your ionizer pH levels from the sink without reaching below every time you want to make an adjustment.
My top pick in the under-counter water ionizer category is the Tyent UCE-11. This ionizer has all the most premium features and an attractive smartphone-inspired touchscreen attached to the faucet. Your guests will be impressed when they see the Tyent in your kitchen, and your whole family will love it.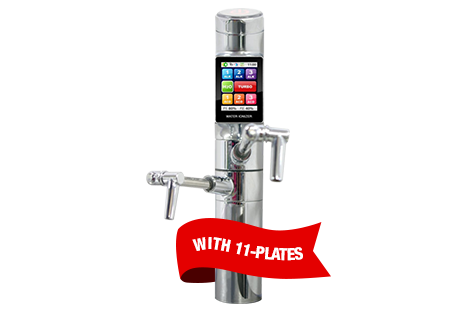 Another amazing feature of this ionizer is the filters. Tyent's filters use the same micron filtration as kidney dialysis machines. You can be sure you're drinking ultra-pure alkaline ionized water when you purchase a Tyent ionizer.
Here are several links to other reviews I wrote for the under-counter ionizers:
Pros and Cons of an Under-Counter Water Ionizer
Pros
The best alkaline water dispenser option
Touchscreen controls
Molecular hydrogen benefits
Wider pH range
The most antioxidants of all ionizers
Powerful filters remove virtually all water contaminants
Cons
The most expensive option
Minimal plumbing knowledge required for installation
How to Install an Under Counter Alkaline Water Dispenser
Installing a water ionizer beneath your sink is more complicated than installing a countertop ionizer, yet not so complicated that most people can't do it.
You need a hole at your sink or counter to pass the faucet through. If you don't feel comfortable installing the system yourself, it's best to hire a local plumber to get the job done.
Here's a generic under-counter water ionizer installation video to give you an idea of how to install one:
Final Thoughts
Now you know all the best methods to install an alkaline water dispenser in your home. I know it can sometimes get complicated trying to figure out what alkaline water is and why people are drinking it for better health. For this reason, I kept this guide simple and to the point.
If you're new to alkaline water, you may want to start with the APEX countertop filter to see how alkaline water makes you feel. Most people prefer the smoother taste of alkaline water.
The only downside is you miss out on the ionized water and molecular hydrogen benefits that water ionizers give you.
Recap
Countertop alkaline water dispensers are the most affordable and easiest to install
Countertop water ionizers are more affordable than under-counter water ionizers, and they both give you the best alkaline water dispenser with the highest quality water
Under-counter ionizers are the most premium alkaline water dispensers on the market, and they save you valuable counter space
Cheers.