Good afternoon fellow health enthusiasts, Pete here, back again bringing you my latest alkaline water machine review. It's another bright sunny summer day, and I've already inhaled my fair share of pH 9.0 water for the day. In this article, I share my detailed Tyent UCE-11 Turbo review.
Before I chose to review the UCE-11, I encountered several water ionizers with negative reviews. So, I decided to put together a list of alkaline water brands to avoid.
Anywho, let's take a good look at the Tyent UCE-11 Turbo. I'll tell you right off the bat that this ionizer is the superior choice for under-sink water ionizers and perhaps the best overall alkaline water machine in the world.
I previously reviewed the Cosan/USA Life Water Pure Hydration ionizer. That unit showed me the importance of adding molecular hydrogen to ionized water to boost antioxidant and anti-aging benefits.
According to Tyent, they are the only company in the world to blend molecular hydrogen and alkaline water to bring you an ionizer that can produce all-natural alkaline hydrogen water.
In my review below, I discuss all the key features of the UCE-11, why they're important, warranty information, pH range, number of titanium electrode plates, and what current owners are saying about their machines.
Key Features
For the past several hours, I've been investigating Tyent USA as a company and their ionizers.
I can tell you that Tyent doesn't just talk the talk, they walk the walk. They have the most certifications I've seen for any company outside of Enagic.
The UCE-11 is jampacked with unique features, and it offers the most attractive touchscreen I've seen since I began my alkaline water journey.
Let's look at what makes the UCE-11 ionizer special:
Tyent stands behind a no questions asked lifetime warranty that that has "no stipulations" or "fine print." In my opinion, a lifetime warranty is mandatory for any unit priced over $1,000. Air Water Life offers a lifetime warranty on its units that are priced below $1,000.
The smartphone-inspired LCD touchscreen on the UCE-11 is simply stunning and will make any kitchen look high-tech. Guests will love to come over to use your ionizer. It will also perk up your kitchen. The touchscreen is comparable to what one would expect on an iPhone.
The UCE-11 has a "Hydrogen Boost" button that allows you to instantly boost the molecular hydrogen in your alkaline water. Say hello to incredible anti-aging benefits.
The Tyent ionizer uses two internal filters that need to be replaced roughly every six months or 950 gallons. There's no requirement to purchase a three-stage pre-filtration system.
One filter is made from high-grade activated carbon while the second filter is made from composite ceramic. The ceramic filter is rated at an astonishing .01-micron. That's the same rating used for kidney dialysis machines! The ceramic filter also adds electrolytes in the final stage to assist the ionization process.
pH Range: 1.7-12 (That's the largest range I've seen for any unit. If you plan to use acidic water for household cleaning and cosmetic use, the UCE-11 will certainly get the job done)
Maximum Negative ORP: -1050mV (The lower the ORP, the more antioxidants you get in every glass. The UCE-11 has the lowest rating I've seen so far. Units typically produce a max ORP of -850mV)
Considering this is an under-counter water ionizer, you do need basic tools to get the job done. Tyent provides several instructional installation videos. However, it may be worth hiring a plumber to ensure everything runs smoothly. On the plus side, there's no conversion kit needed to install the ionizer.
The UCE-11 features an impressive 11 electrode plates. The plates are solid/mesh medical-grade titanium that's been dipped in platinum multiple times. The plates are then baked. You get a mammoth 385 square inches of surface area.
The Tyent ionizer has 55 different settings to accommodate all types of incoming water. The energy-efficient design also guarantees minimal wastewater.
There are 7 base water settings with a "Turbo" option – 3 alkaline levels, 3 acidic levels, and one neutral level. Here's the cool part. Similar to the way you used to preset radio stations in your car, you can preset each button on your machine. For example, if you want the "Alk 1" button to be pH 9.5, you can set it to that level. Tyent offers 99 preset options per button.
The machine's dimensions under the counter are 14″ Length x 5.375″ Width x 14″ Height. The faucet's dimensions are 2″ Diameter and 11.5″ Height
Weight: 12.25 lbs (Keep in mind, the main unit is housed below your sink)
The UCE-11 has an automatic self-cleaning function
pH level display
Voice alerts during cleaning
Filter life indicator
Flow Rate: .5 gallon/min
Anti-bacterial technology
Good news for international buyers, the unit is 100-240V
It's been featured on E Channel's Million Dollar Homes and has won the Water Ionizer of the Year award every year since 2012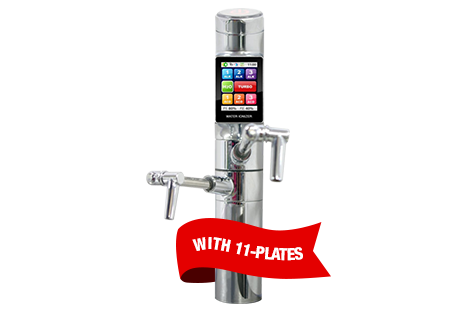 Under Sink Installation
As mentioned in the feature list, you'll need tools to install the UCE-11 under the sink, but don't let that scare you away. Tyent makes it as easy on you as possible because you won't need a conversion kit to install the ionizer.
Click here to view Tyent's instruction video page for the Tyent UCE-11. The hardest part is cutting the hole through your sink. It's important to cut a clean hole using a bi-metal or carbide tooth hole saw. Don't forget to take safety precautions including wearing protective glasses when cutting the hole.
The bottom of the faucet with the smartphone-inspired LCD passes through the hole you cut to connect to the main ionizer body below the sink. Once you're set up, you have complete control of your water above the sink at the faucet.
The problem with other alkaline water machines with under-sink installations is the lack of a touchscreen.
With the UCE-11, you don't need to go under your sink to change any settings on the main unit.
The demo video below shows the Tyent UCE-11 ionizer in action:
As long as you have the basic tools for the job, Tyent provides all the parts you need to complete the installation.
If you run into any problems, Tyent has a devoted customer support team to walk you through the process and a toll-free number.
Tyent Replacement Filters
Tyent makes it easy for you to replace the filters with an easy-open door that allows you to install the filters from the front. No need to reach around to the back of the ionizer or deal with any cords getting in your way.
Compared to other ionizers I've reviewed, the replacement filters for the UCE-11 do cost more. However, there's no requirement to buy a three-stage pre-filtration system.
The Tyent filters are rated at .01 micron, which is the best I've seen on any machines. The lowest I've seen before the Tyent is .02 micron. Again, .01 micron is the same filtration used for kidney dialysis machines.
The filter life is 6 months or 950 gallons.
Below is the Tyent Ultra Filter set:
| | |
| --- | --- |
| | 2-Stage System |
| Price | $130 or less |
| Avg. life | 6 months or 950 gallons |
| Filter Media Type | Activated Carbon, Composite Ceramic |
The UCE-11 provides .01 micron filtration which is the same micron rating used in kidney dialysis machines. Be prepared to get the best tasting water you've ever had, especially when you take advantage of the molecular hydrogen water setting.
What are current owners saying about the UCE-11 Ionizer?
By this point, you know the UCE-11 is in the conversation for the best alkaline water machine currently available, and it's still cheaper than the Enagic Kangen.
While features are awesome to read, the more important part of the evaluation is to go through the current Tyent UCE-11 reviews to see what owners have to say.
Does it live up to its lofty expectations?
Here's what current owners are saying:
One woman has already purchased six Tyent ionizers for members of her family, and they have endless stories about how Tyent water has improved their health.
Another user who quit drinking soda because he loves the Tyent so much said that it's as essential as his fridge. He also reported that it's the best water you'll ever taste in your life.
A friendly and attentive staff who is always willing to help with a smile.
Another man said his unit has been going strong for two years now, and he and his wife can't imagine living without it.
Impeccable customer service
The ionizer is easy to use.
Quick delivery
One family doesn't leave the house without a gallon of Tyent water. They also reported all the uses they have for the different pH levels including beauty, cooking, and cleaning.
One woman reported that she installed the unit herself with no problems.
One man noted that he's gotten consistent pH test results after a year of use (inconsistent pH readings are a common problem with inferior ionizers)
Another owner recommended storing the water in insulated stainless steel bottles when on the go because light and oxygen can diminish the water's strength.
Incredibly clear and crisp water that's almost tasteless
The Tyent staff isn't pushy.
Health Benefits
These are some of the more inspiring stories I stumbled upon in my research:
One man reported lower blood pressure, and his wife got rid of a pesky rash that was covering her entire body.
A family reported extraordinary benefits to everyone's health.
One person said friends keep coming over to fill up jugs of water after they discovered the energy-boosting and hydrating benefits.
One woman lost 10 lbs of stubborn baby fat by drinking Tyent water alone. She is well on her way to reaching her goal of 20 lbs. She also noted having a lot more daily energy.
One person said it feels like being back in the early 20s.
The acidic water can zap zits.
A nurse recommended the UCE-11 and noted a significant health improvement.
Bottom Line
The Tyent UCE-11 ionizer is the best and most premium under-sink alkaline water machine you'll find on the market. I spent countless hours researching and reviewing each of the products on my site, and the UCE-11 impresses me the most. The UCE-11 has it all, and it's still cheaper than the Kangen machine.
The .01-micron filtration, beautiful touchscreen, and 11 medical-grade titanium plates are what sell me the most on this water ionizer. Despite the higher upfront cost, you save money in the long run compared to buying bottled alkaline water. Imagine a home where the whole family can stay in tip-top shape. That's what you get when you buy a premium ionizer.
Remember, you get a hassle-free lifetime warranty with the Tyent UCE-11 Turbo Ionizer, which means a lifetime of pure molecular hydrogen-rich alkaline water.
Overall Score: 9.5/10