Good afternoon fellow alkaline water fans, Pete here, back again bringing you our latest water ionizer review. It's another bright, sunny summer day, and I've already had my fair share of pH 9.0 water. In this article, I share our updated Tyent UCE-11 Turbo Water Ionizer review.
I'll tell you right off the bat that this ionizer is a superior piece of machinery and our current top pick for the best under-sink water ionizer. Tyent is one of our favorite brands because the company's innovative, trustworthy, and dedicated to pushing the boundaries.
In this review, we discuss the key features of the UCE-11 & why they're important, warranty terms, pH range, ORP range, and the pros & cons of owning the unit.
Overview
As a company, Tyent brings a lot to the table. Similar to Enagic, Tyent has gone through the painstaking process of obtaining the proper certifications for its machines. For example, Tyent water ionizers are made in South Korea as certified medical devices.
Now, let's go over the features:
No-Questions-Asked Lifetime Warranty with "no stipulations" or "fine print." In our opinion, a lifetime warranty is mandatory for any water ionizer over $1,000.
Smartphone-Inspired LCD Touchscreen: Tyent's touchscreen controls are the most advanced, attractive, and user-friendly on the market.
Hydrogen Boost Button: This feature allows you to quickly and easily boost molecular hydrogen levels in your ionized water.
Powerful Dual-Filter System: Filter #1 is high-grade activated carbon while Filter #2 is composite ceramic with a .01-micron pore size. This is the same micron rating used in kidney dialysis machines.
7 Preset Levels with "Turbo" Option: 3 alkaline levels, 3 acidic levels, and one neutral level. Similar to the way you used to preset radio stations in your car, you preset each button on your machine. For example, if you want the "Alk 1" button to be pH 9.5, you simply set it to that level. There are 99 preset options per button.
11 Platinum-Coated Medical-Grade Titanium Plates: total surface area 385 sq. in.
pH Range: 1.7 to 12
Maximum Negative ORP: -1050 mV
55 Custom Water Settings
Dimensions: 14″ x 5.375″ x 14″ (LxWxH)
Faucet Dimensions: 2″ Diameter x 11.5″ Height
Weight: 12.25 lbs
Flow Rate: .5 gallon/min
Filter Life: 6 months or 950 gallons
Voltage: 100 to 240V
Automatic Self-Cleaning
Under-Sink Only
pH level Indicator
Optional Voice Alerts
Filter Life Indicator
Anti-Bacterial Technology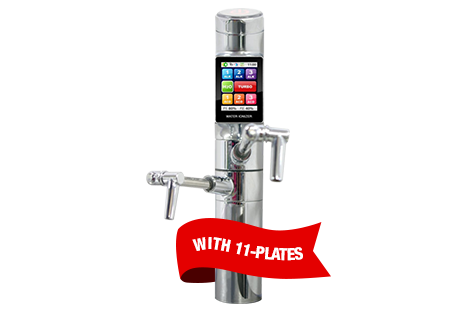 Tyent UCE-11 Installation
Unlike simple countertop water ionizer installations, the under-sink installation for the UCE-11 does require basic tools. The good news is Tyent provides clear instructions with a video, and there's no conversion kit required.
The hardest part is cutting the hole through your sink or counter to pass the faucet assembly through. It's important to cut a clean hole using a bi-metal or carbide tooth hole saw. Also, don't forget to take proper safety precautions including wearing protective glasses and gloves.
Once the hole is cut, you pass through the faucet assembly through the hole to connect it to the ionizer body. After installing the unit, you have complete control over your water ionizer settings above the sink. This is a nice touch since most under-sink ionizers require that you reach below the sink to adjust settings.
The video below shows the Tyent UCE-11 in action:
All you need are basic tools and a hole saw. Tyent provides the rest of the parts to complete the installation. If you need further assistance, Tyent provides a toll-free number for customer questions related to installation.
Tyent Water Ionizer Replacement Filters
Changing filters in the UCE-11 is simple with Tyent's easy-open door design. There's no need to reach around to the back of the ionizer or deal with any cords in your way. Simply open the swinging door and carefully twist the old filters to remove them before replacing them with fresh ones.
Compared to single-filter ionizers, the replacement filters for the UCE-11 do cost more. However, Tyent's dual-filter system is more powerful than a single activated carbon filter, so there's less of a chance you'll need a prefiltration system.
The upgrade lies in Tyent's ceramic filter with a .01-micron rating. The additional of this filter is the reason Tyent's filters do a better job of removing contaminants.
| | |
| --- | --- |
| | 2-Stage System |
| Price | $$$ |
| Avg. life | 6 months or 950 gallons |
| Filter Media Type | Activated Carbon, Composite Ceramic |
Tyent UCE-11 Turbo Reviews: The Good and Bad News
By this point, you know Tyent's UCE-11 water ionizer is one of the most advanced on the market, and it's more affordable than a Kangen Water Machine.
While features look awesome on paper, the more important part of the evaluation is to consider whether the UCE-11 delivers on its promises. Below is a list of points to consider before choosing Tyent's UCE-11 for your home:
Customer service is excellent, and the company stands behinds its products & warranties
If you're a first-time water ionizer owner or looking to upgrade, the UCE-11 will almost certainly impress you
The modern touchscreen is easy to use for the whole family and makes customization easy
The ability to control the ionizer above the sink is very convenient
A quick and smooth delivery process
The wide pH range makes the UCE-11 excellent for drinking, household, and cosmetic uses
Easy installation process
Consistent pH results when compared between a meter and the machine
Excellent-tasting water from the dual-filtration process and 11-plate design
Higher replacement filter cost than single-filter ionizers
The upfront cost might be too steep for first-time ionizer owners
Manufactured in South Korea as a certified medical device, not China
Bottom Line
Currently, Tyent's UCE-11 ionizer is the most advanced under-sink alkaline water machine on the market and our #1 under-sink model. Comparatively, it's more attractive, more advanced, and more affordable than a Kangen Water Machine. Tyent and Enagic certify their machines as medical devices. The only difference is Enagic does it in Japan while Tyent does it in South Korea.
.01-micron filtration, the modern touchscreen, molecular hydrogen boost, and the 11 medical-grade titanium plates are four of the main reasons we love this water ionizer. All in all, this machine is for people who are serious about owning a premium water ionizer that stands the test of time.
Overall Score: 9.5/10