Good afternoon and welcome, I'm your host, Pete. Today, I'm sharing our definitive list of the Top 10 Best Alkaline Water Machines and Water Ionizers on the market.
Ionized water has been going strong in Asia for decades, and America is catching onto the fact that it's helped people all over the world boost their health and drink more water daily because alkaline water is that darn good.
If this is your first visit to AWMS, you may be wondering, Why do people drink ionized water?
The best way to learn the reasons is to read our complete list of alkaline water benefits. If you already know about the wonderful benefits, let's get started with our Top 10 picks and helpful buyer's guide.
Last Updated: October 12, 2020
Best Alkaline Water Machine Reviews
#1 Tyent UCE-11 Turbo Water Ionizer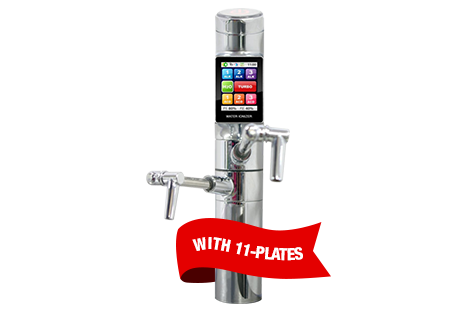 The best overall alkaline water machine in 2020 is the Tyent UCE-11 Turbo under-sink water ionizer. When you invest in the UCE-11, you get a world-class ionizer built to last you a lifetime. The UCE-11's smartphone-inspired LCD touchscreen is the best and most intuitive on the market.
With this machine, you have the option to customize your presets and really dial in your water to the exact levels you prefer. Another key advantage is no unsightly hoses hanging into your sink (like with Kangen). The polished chrome finish of the UCE-11 fits in well with any kitchen and won't blemish your existing kitchen decor.
When you consider the combination of features, materials, and craftsmanship offered by this machine, the UCE-11 with its integrated molecular hydrogen boost function gives you the most value for the money. There are ionizers with more plates that cost more, and for most people, 11 plates are sufficient. This is one of the main reasons we rank the UCE-11 above higher-priced ionizers with more plates.
Pros
The widest pH range and the convenience of a fully-customizable experience – dial in your water pH presets exactly where you want them for drinking, cleaning, beauty, and more
The robust 11-plate design improves the flow rate and makes water that's overflowing with powerful anti-aging antioxidants (a higher negative ORP at the ideal pH range for drinking)
Tyent's no-hassle lifetime warranty
Control your ionizer from above the sink and save valuable counter space compared to owning a countertop ionizer
Hydrogen Boost – Tyent is the only alkaline water machine in our Top 10 that allows you to juice up your drinking water with molecular hydrogen
Cons
The upfront cost
The UCE-11 Turbo is under sink only (Want a countertop version? We recommend Tyent ACE-11)
Under-sink installation is more complicated than a simple countertop install
#2 Bawell Platinum Water Ionizer Model 2195
Our #2 pick is the Bawell Platinum Water Ionizer. The Bawell ionizer is a fully-capable 7-plate ionizer that packs a serious punch. The negative ORP at the ideal pH level for drinking is impressive for an ionizer at this price point. As a company, Bawell impressed us with its customer service and glowing current owner reviews.
The one drawback of a Bawell ionizer is that it's not manufactured in Japan or South Korea, which are the only two countries that certify ionizers as medical devices.
However, Bawell makes up for that drawback by being an outstanding company that sells one of the most powerful ionizers currently on the market for a very competitive price. Considering it costs significantly less than a Tyent ionizer, the Bawell Platinum is certainly worth a look for first-time ionizer owners and folks looking to replace an outdated model.
#3 Chanson Violet Water Ionizer
Our #3 pick is the Chanson Violet. Chanson is a lesser-known water ionizer company that I discovered during my time in Taiwan. The Chanson staff and their products impressed me in person. Once I had the chance to do my own research, I found Chanson's unique plate technology to be quite fascinating.
I also love their use of silver-impregnated carbon in the filter. Silver is a powerful natural antibacterial that enhances the efficiency of the Chanson filter and gives it the ability to cast a wider net for removing harmful contaminants.
Overall, the Chanson Violet ionizer is worth a look, and it's a lot more affordable than the Tyent UCE-11.
#1 Aqua Ionizer Deluxe 5.0 – Best Budget Water Ionizer
Our top-rated budget ionizer is the Aqua Deluxe 5.0 by Air Water Life. It has all the necessary features for a first-time ionizer owner to get started on their healing journey. It costs significantly less than the most premium ionizers on the market, yet it still produces the same healthy ionized water that you're after.
You may find that the Aqua Deluxe 5.0 is the perfect choice for you and your family as a first ionizer. There's always time to upgrade later if you want to take your love affair with ionized water to the next level.
Alkaline Water Machine Price Breakdown
Budget Ionizers

Mid-Range Ionizers

Premium Ionizers

Cosan Pure Hydration

Aqua Ionizer Deluxe 5.0

IntelGadgets IONtech IT-580

IntelGadgets IONtech IT-757

Aqua Ionizer Deluxe 7.0

Aqua Ionizer Deluxe 7.5

Aqua Ionizer Deluxe 9.0

Chanson Violet

Bawell Platinum

Tyent UCE-11
Replacement Filter Comparison
Filter life is a key factor to consider before you buy a water ionizer because no one wants to buy expensive replacement filters every couple of months. Especially since one of the greatest water ionizer benefits is saving money in the long run.
The good news is most filters only need to be replaced once or twice a year
Filter Life
Average Filter Cost
Filter Type
# of Filters
Bawell Platinum 2195
Filter 1: 11 to 14.5 months
Filter 2: 13 to 17 months
$$$$
Filter 1: Granular Activated Carbon
Filter 2: Pre-Activated Carbon
2
Aqua Deluxe 7.0
1,585 gallons or about 1 year
$
Activated Carbon
1
Aqua Deluxe 9.0
1,050 gallons or about 1 year
$
Activated Carbon
1
Aqua Deluxe 5.0
1,050 gallons or about 1 year
$
Activated Carbon
1
IONtech IT-757
1,500 to 3,000 gallons or 1 year
$$
ACF-1 High-Grade Activated Carbon
1
IONtech IT-580
1,500 to 3,000 gallons or 1 year
$$
ACF-1 High-Grade Activated Carbon
1
Aqua Deluxe 7.5
1,050 gallons or about 1 year
$
Activated Carbon
1
Cosan/USA Life Water
6 months or 600 gallons
$$$$
4-Stage Assorted
4
Tyent UCE-11 Turbo
6 months or 950 gallons
$$$$
Filter 1: Activated Carbon
Filter 2: Composite Ceramic
2
Chanson Violet
10 months or 525 gallons
$$$
Silver-impregnated Activated Carbon
1
Now that you know all about the top-rated water ionizers, it's time to take a closer look at what makes a good ionizer and how we arrived at our top 10 picks.
Water Ionizer Filters
I concluded through my research that single-filter water ionizers may require a pre-filtration system depending on the quality and TDS level of your tap water.
If you have hard tap water or well water, consider installing a three-stage water filtration system or a reverse osmosis system with remineralization before your ionizer. These are the best methods for avoiding calcium buildup inside your ionizer, which can wreak havoc on your ionizer's plates and performance.
A three-stage pre-filtration system extends the life of your water ionizer filters and will help you avoid mineral buildup on the platinum-coated titanium plates inside your machine.
Chanson's Violet ionizer is one of the best single-filter alkaline water machines. The silver-impregnated carbon filter is a unique feature that inhibits bacterial growth. Chanson uses a food-grade activated carbon with a larger surface area for exceptional water filtration.
All Air Water Life Aqua Deluxe Ionizers use the same activated carbon filter. Air Water Life's replacement filter costs less, however, most people will need to install a pre-filter such as a point-of-entry whole house water filter before an Air Water Life ionizer to aid the Air Water Life carbon filter. If you have an existing whole house water filter, you're good to go.
Cosan/USA Pure Hydration replacement filters cost the most, and they do an outstanding job of purifying tap water. If you want to see how cutting edge the Cosan Life Water Ionizer truly is, I highly recommend our in-depth Cosan Water Review.
Cosan's 4-stage filtration system does not require a pre-filter.
The powerful Tyent UCE-11 filters utilize .01-micron filtration – the same level used by kidney dialysis machines.
Should you use a reverse osmosis system before your water ionizer?
Reverse osmosis systems strip all minerals from your water. For your water ionizer to function properly, your feed water needs a minimum number of minerals.
The titanium electrode plates in your alkaline water machine can't conduct an electric current when your feed water has a 0 TDS reading. For this reason, it's best to avoid using plain reverses osmosis water or distilled water in your ionizer.
If you already own a reverse osmosis filtration system and want to pair it with your water ionizer, there's an easy fix. To make the system work, simply install an inline mineral filter cartridge after your RO membrane to replenish the plain RO water with minerals.
Do alkaline water machines work with well water?
Water ionizers are compatible with well water. First, test well water to identify mineral concentrations and get an accurate TDS reading. Once you identify the toxins and level of hardness, choose a pre-filtration system that targets the minerals and toxins that need to be reduced and removed before the water reaches your ionizer filters.
Since well water is more likely to be hard, consider installing a water softener or softener/whole house filter combination system ahead of your ionizer to avoid calcium buildup on the ionizer's titanium plates. Taking this step also significantly extends the life of your ionizer water filters.
Additionally, a UV filter is a good option for sanitizing well water. Keep in mind, water utilities use chlorine and chloramines to disinfect public drinking water. Considering well water is often untreated, a UV filter works to eliminate any potentially harmful bacteria or viruses.
Water Ionizer Warranties
It's no coincidence that the best alkaline water machine brands offer the best warranties. All the water ionizers featured in our Top 10 are manufactured by trustworthy companies.
During my research, I came across several water ionizer brands that appeared suspect and had negative customer reviews. You won't find any of those brands here.
Air Water Life is one of the most trustworthy budget water ionizer companies, and their customer service team has high marks.
It's important to do business with transparent companies when buying a water ionizer since it's a large investment that should stand the test of time.
I had the pleasure of visiting a Chanson Water store while I was in Taiwan, and I can say without a doubt that they're a legit company. They may not offer the same lifetime warranty as several other premium brands, but their technology is certainly state of the art.
Cosan/USA stands behind its Pure Hydration alkaline water machine with a 15-day money-back guarantee, which essentially gives you the chance to try before you buy.
Tyent's premier ionizers all come with a no-questions-asked lifetime warranty.
All the ionizers in our Top 10 give you your money's worth. Whether you want a lifetime warranty as an added bonus is up to you. I recommend going for the lifetime warranty when choosing the most expensive water ionizers.
Water ionizer companies that don't offer lifetime warranties may still help you after the warranty period ends if the problem is due to a manufacturing defect. All the companies included here have exceptional customer service.
Negative ORP
If you're new to ionized water, you may be wondering what ORP is and why it's important. Did you notice that the most costly ionizers with the most titanium plates make ionized water with the highest negative ORP?
Leading researchers in Asia believe ORP is more important than water pH, and so do we.
Alkaline pH helps neutralize acidity, but a negative ORP is where the real health benefits of alkaline ionized water lie.
ORP is the measure of antioxidant potential. The higher the negative ORP (within the optimum pH range for drinking) the more antioxidants you get in every glass of water you drink from your ionizer. Antioxidants = anti-aging benefits.
Do you know why an apple turns brown after it's been cut? It's due to oxidation.
Antioxidants protect your body against the aging effects of oxidation.
What Is ORP Continued…
ORP stands for "Oxidation Reduction Potential." Alkaline water machines create an electric current in their platinum-coated titanium electrode plates to make ionized water with a higher negative ORP aka alkaline antioxidant water.
Negative ORP water is much easier for your body to absorb, which is the reason why ionized water does a better job of hydrating your body than plain tap water.
Chronic dehydration can lead to serious health problems and illnesses. Delicious ionized water is the easiest way to stay hydrated around the clock.
Negative ORP water also boosts oxygen production throughout the human body. Daily ionized water drinkers – including myself – often experience a noticeable energy boost after hydrating.
Picture the ORP level as the measure of potential health benefits in your drinking water. When the negative ORP is just right, there's more health packed into your water.
When you drink alkaline antioxidant water throughout the day, you get a steady energy boost that makes every day more productive.
The Problem with Positive ORP Water
When you drink positive ORP water, it has an oxidizing effect on your body. This effect speeds up the aging process.
Guess what?
Tap water typically has an ORP between +200 and +600
By drinking alkaline antioxidant water, you shield yourself from oxidative damage caused by positive ORP water. Antioxidants seek out harmful free radicals in your body and stop them dead in their tracks.
The antioxidants in negative ORP water are one of the reasons an immune system boost is a key health benefit of ionized water.
If you're the kind of person who likes to test things to make sure they're working, we recommend using an ORP meter to test your ionized water. Once you compare the ORP readings between your ionized water and your tap water, you'll be glad that you invested in your health by purchasing an ionizer.
Water Ionizer Flow Rate
Flow rate is important if you plan to use your ionizer for commercial purposes. For singles, couples, and small families, the flow rate is a minor consideration, yet one that's still worth making.
As long as you have adequate water pressure to get a steady stream from your water ionizer, you're all set.
Why?
It's a good idea to optimize your flow rate to maximize the contact time between your feed water and the electrode plates inside your ionizer.
Most water ionizer owners find their sweet spot by adjusting the flow valve on their ionizers or opening their taps halfway.
The surface of the plates (electrodes) is where the real magic happens. That's why premium water ionizers make the most out of the contact time between the water and the electrodes.
As I mentioned earlier, Chanson's plate technology is some of the best on the market. The Chanson Violet may have fewer plates, but Chanson increased the surface area of their plates to make ionized water with a lower negative ORP.
Why do water ionizers use platinum-coated titanium electrode plates?
The reason all the best water ionizers use platinum-coated titanium is that it's the most resistant to corrosion and oxidation. The electrodes are constantly in contact with water at different pH levels. They must be able to handle stress without becoming damaged.
Platinum and titanium are the main reasons why the best alkaline water machines come with lifetime warranties. The electrodes are built to last a lifetime. All the ionizers featured in our Top 10 have platinum-coated titanium plates.
Steer clear of any ionizers without platinum-coated titanium electrodes.
Why is the number of plates important?
The key to making ionized water with a higher negative ORP lies in the effective surface area of the plates.
More Plates = More Surface Area
Since your feed water is only in contact with the plates for a short period, it's important to make the most out of that time.
The electrodes produce an electric current in your feed water. When you drink the ionized water from your ionizer, you drink water that's been safely charged with antioxidants.
How do alkaline water machines work?
In nature, there's a type of amazingly healthy alkaline antioxidant water, and it's called glacial water. You recreate glacial water in your home with a water ionizer.
When your tap water enters your water ionizer, it passes through powerful filters with selective media to remove contaminants. Then, it enters the ionization chamber to undergo electrolysis.
Electrolysis safely produces alkaline ionized water and acidic ionized water. The water that comes out of your drinking water hose is alkaline ionized water, and the water that drains into your sink from a separate hose is the acidic ionized water.
Watch the video below to see electrolysis in action:
Air Water Life put together a helpful diagram to show you what happens during the electrodialysis process:
Acidic Water Benefits
Are there acidic water benefits? A lot of people forget that one of the greatest benefits of owning an ionizer is the option to make acidic water.
Acidic water has many awesome uses, just be sure not to drink it.
Acidic water with a pH between 2.5 and 4 has natural antiseptic properties that make it great for household cleaning. The same antiseptic properties also make it perfect for cleaning minor cuts and abrasions.
Acidic water has natural antibacterial properties as well. Save money on household cleaning supplies by replacing them with all-natural acidic water from your ionizer.
pH 5.5 water is great for cosmetic use, moisturizing, and watering common varieties of houseplants
Acidic water health benefits:
Many happy water ionizer owners cleared their stubborn acne by applying acidic water to it
A woman's husband used acidic water to clear a case of adult acne that had plagued him for decades
A diabetic man saved his infected toe by soaking it in acidic water after doctors wanted to amputate it!
Alkaline Water Safety Tips
The day your new ionizer arrives, you will undoubtedly be excited to begin your healing journey and boost your family's health.
Before you get started, there's one important tip to remember:
When you first begin drinking alkaline water, start slowly.
The last thing you want to do is shock your body by drinking strong alkaline water from the get-go.
Keep in mind that the water you've consumed for most, if not all of your life, has a slightly acidic pH.
Alkaline Water Drinking Tips
What's the best pH level to start? The best pH for first-time alkaline water drinkers is 8 or 8.5 max.
You'll notice an improvement in your health when starting in this pH range. Your body will receive the vital alkaline minerals it needs while getting a healthy dose of anti-aging antioxidants.
Do you have children? Chanson recommends 8.5 pH for children.
You may want to start the whole family with pH 8 to avoid potential detoxification symptoms.
When to Drink pH 9.0 Water
Once your body adjusts to drinking alkaline water, it's time to move up to pH 9.0.
9 pH water is great for reducing post-workout soreness caused by lactic acid.
9 pH water is also perfect to use for cooking to enhance the flavors of your food.
Is 9.5 pH water good for you?
A lot of health enthusiasts focus on 9.5 pH water as the perfect pH for good health.
You may be wondering, why?
Once your body has adjusted to drinking pH 9 water daily, you've already undergone deep natural cleansing throughout your body. You'll know when you're ready to take the next to step to pH 9.5.
Once you begin drinking pH 9.5 water, you enhance your daily antioxidant intake which leads to cell rejuvenation
9.5 pH water helps people heal from chronic illnesses. If you suffer from chronic fatigue or brain fog, you'll most likely notice a major daily energy boost at pH 9.5.
How to Store Alkaline Water
You may want to know how to store your alkaline water in case you take it with you on the go or want to keep it cold in your fridge. The best way to store it is inside an airtight bottle such as a flip-top mason jar, vacuum-insulated stainless steel water bottle, or a BPA-Free Tritan plastic bottle.
We recommend filling the bottle to the top before you store it to ensure there's a minimum amount of air inside the bottle. By storing your ionized water in an airtight container, you preserve the antioxidants produced by your water ionizer.
Our first choice is a vacuum-insulated water bottle because it's both airtight and lightproof.
What is alkaline water above pH 9.5 used for?
Water with a pH of 11 or higher is good for cleaning dishes, stain removal, and washing fruits or vegetables.
I've read reports written by water ionizer owners who stopped buying organic produce and began cleaning conventional produce with strong alkaline water to save money.
What's the difference between a water ionizer and an alkaline water machine?
There's no difference!
Molecular Hydrogen Boost
Scientific research has proven that molecular hydrogen is a powerful anti-aging antioxidant that works wonders for the human body. For this reason, the most cutting-edge alkaline water machines now feature molecular hydrogen boost technology.
The two ionizers in our Top 10 that boost molecular hydrogen are Cosan's Pure Hydration and Tyent's UCE-11
The Cosan/USA Pure Hydration machine does not use electricity to boost molecular hydrogen. Instead, it adds molecular hydrogen to your water through its natural multi-stage filtration process.
Over 120,000 people have already bought the Cosan Life Water ionizer because it makes molecular hydrogen-rich alkaline water at a fraction of the cost of an electric ionizer.
Cosan's ionizer is currently one of the best deals on the market.
Tyent's UCE-11 costs a good chunk more, but you also get what you pay for when you invest in a premium Tyent ionizer.
How to use the molecular hydrogen boost function on the UCE-11: To boost molecular hydrogen using your Tyent UCE-11 Turbo ionizer, simply choose the "Hydrogen Boost" function on the touchscreen before you pour.
Molecular Hydrogen Benefits
Weight Loss
Natural Diabetes Care
Anti-Cancer
Liver Protection
Promote Gut Health
Life Extension
All-Natural Pain Relief
Anti-Inflammatory
Allergy Prevention
Improve Mood Disorders
You can't go wrong with any of the models featured in our Top 10 Best Alkaline Water Machines. We spent countless hours compiling data for our reviews and buyer's guide to guarantee that we provide you with only the most accurate and up-to-date information.
This guide is our most important resource, and we're confident that it'll lead you to the best water ionizer for you and your family. Which ionizer will you choose?
Be sure to check back soon for updates! Until then, cheers!